s we wrap up the holidays, it is good to remember that the "season of giving" should extend beyond when we are simply in the Christmas spirit. Janie VanWinkle, her husband, Howard, and son, Dean, are great examples of giving year-round. In 2022, they partnered with the
Food Bank of the Rockies to provide them with more than 40,000 pounds of ground beef at a discounted price. The Food Bank of the Rockies is a non-profit that supplies many of the local food banks in Colorado. The VanWinkles plan to continue this partnership in 2023.
VanWinkle Ranch LLC is located near Grand Junction, Colorado, where Janie and Howard operate the ranch full-time. In 2017, the couple set out to achieve their goal to add value to their cow herd by feeding out their cull cows, adding marbling, and selling them as ground beef to local consumers.
How did it begin?
Janie and Howard didn't always work full-time on the ranch. When Janie graduated from Colorado State University in 1983 with a degree in agricultural education, and Howard finished mechanics school, they returned to Grand Junction and found jobs in town. Janie worked in
a department store initially and Howard as a mechanic. Later, Janie was hired to open a Barnes & Noble store. After seven years as the store manager, Janie wanted to operate her own business, so she opened a Nick-N'-Willy's Pizza franchise. Janie owned Nick-N-Willy's for 10 years, and she attributes her strong connection to her community to owning the restaurant.
"One of the biggest things that came out of owning
the store was learning how to do community-based
marketing and learning how to connect the business to the
community," Janie said. "Our direct-to-consumer program
evolved from those relationships."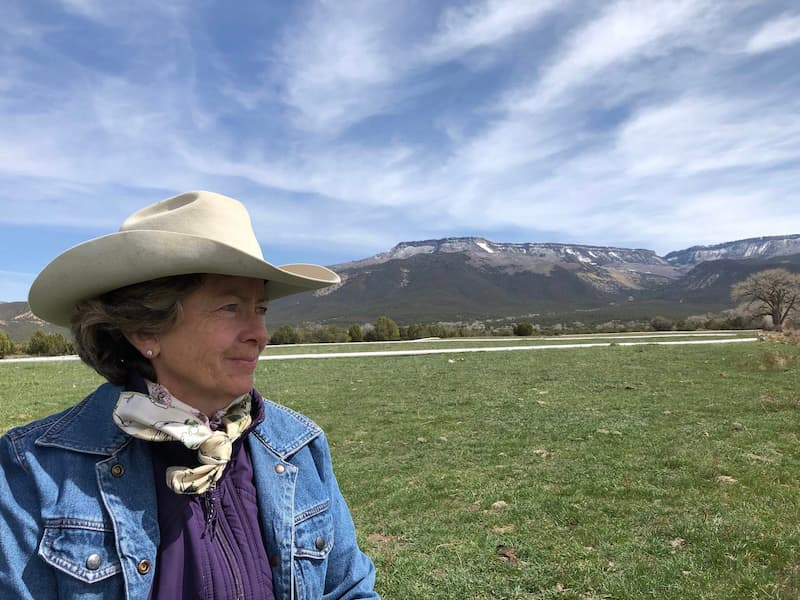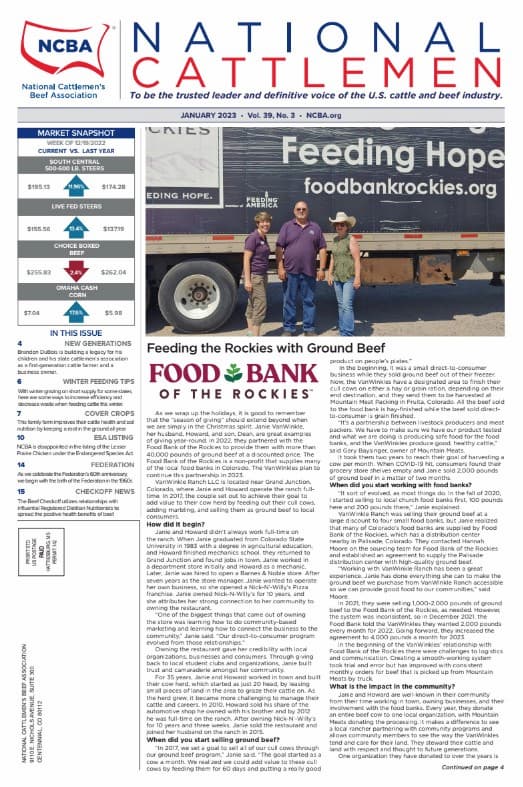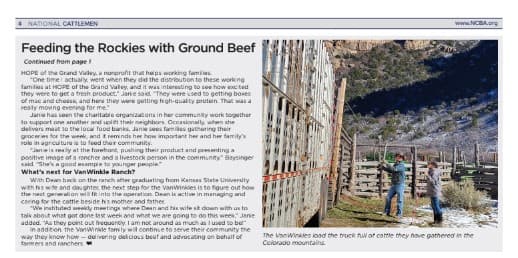 Owning the restaurant gave her credibility with local organizations, businesses and consumers. Through giving back to local student clubs and organizations, Janie built trust and camaraderie amongst her community. For 35 years, Janie and Howard worked in town and built their cow herd, which started as just 20 head, by leasing small pieces of land in the area to graze their cattle on. As the herd grew, it became more challenging to manage their cattle and careers. In 2010, Howard sold his share of the automotive shop he owned with his brother and by 2012 he was full-time on the ranch. After owning Nick-N'-Willy's for 10 years and three weeks, Janie sold the restaurant and joined her husband on the ranch in 2015. When did you start selling ground beef? "In 2017, we set a goal to sell all of our cull cows through our ground beef program," Janie said. "The goal started as a cow a month. We realized we could add value to these cull cows by feeding them for 60 days and putting a really good product on people's plates."
In the beginning, it was a small direct-to-consumer business while they sold ground beef out of their freezer. Now, the VanWinkles have a designated area to finish their cull cows on either a hay or grain ration, depending on their
end destination, and they send them to be harvested at Mountain Meat Packing in Fruita, Colorado. All the beef sold to the food bank is hay-finished, while the beef sold direct- the to-consumer is grain finished. "It's a partnership between livestock producers and meat packers. We have to make sure we have our product tested, and what we are doing is producing safe food for the food banks, and the VanWinkles produce good, healthy cattle,"
said Gary Baysinger, owner of Mountain Meats. It took them two years to reach their goal of harvesting a cow per month. When COVID-19 hit, consumers found their grocery store shelves empty and Janie sold 2,000 pounds of ground beef in a matter of two months. When did you start working with food banks? "It sort of evolved, as most things do. In the fall of 2020, I started selling to local church food banks fi rst, 100 pounds here and 200 pounds there," Janie explained. VanWinkle Ranch was selling their ground beef at a large discount to four small food banks, but Janie realized that many of Colorado's food banks are supplied by Food Bank of the Rockies, which has a distribution center nearby in Palisade, Colorado. They contacted Hannah Moore on the sourcing team for Food Bank of the Rockies and established an agreement to supply the Palisade distribution center with high-quality ground beef. "Working with VanWinkle Ranch has been a great experience. Janie has done everything she can to make the ground beef we purchase from VanWinkle Ranch accessible so we can provide good food to our communities," said Moore.
In 2021, they were selling 1,000-2,000 pounds of ground beef to the Food Bank of the Rockies, as needed. However, the system was inconsistent, so in December 2021, the Food Bank told the VanWinkles they wanted 2,000 pounds every month for 2022. Going forward, they increased the agreement to 4,000 pounds a month for 2023.
In the beginning of the VanWinkles' relationship with Food Bank of the Rockies there were challenges to logistics and communication. Creating a smooth-working system took trial and error but has improved with consistent monthly orders for beef that is picked up from Mountain Meats by truck.
What is the impact in the community? Janie and Howard are well-known in their community from their time working in town, owning businesses, and their involvement with the food banks. Every year, they donate an entire beef cow to one local organization, with Mountain Meats donating the processing. It makes a difference to see a local rancher partnering with community programs and allows community members to see the way the VanWinkles tend and care for their land. They steward their cattle and land with respect and thought to future generations.

One organization they have donated to over the years is HOPE of the Grand Valley, a nonprofit that helps working families. "One time I actually, went when they did the distribution to these working families at HOPE of the Grand Valley, and it was interesting to see how excited they were to get a fresh product," Janie said. "They were used to getting boxes of mac and cheese, and here they were getting high-quality protein. That was a really moving evening for me."
Janie has seen the charitable organizations in her community work together to support one another and uplift their neighbors. Occasionally, when she delivers meat to the local food banks, Janie sees families gathering their groceries for the week, and it reminds her how important her and her family's role in agriculture is to feed their community. "Janie is really at the forefront, pushing their product and presenting a positive image of a rancher and a livestock person in the community," Baysinger said. "She's a good example to younger people." What's next for VanWinkle Ranch? With Dean back on the ranch after graduating from Kansas State University with his wife and daughter, the next step for the VanWinkles is to figure out how the next generation will fit into the operation. Dean is active in managing and caring for the cattle beside his mother and father. "We instituted weekly meetings where Dean and his wife sit down with us to talk about what got done last week and what we are going to do this week," Janie added. "As they point out frequently, I am not around as much as I used to be!" In addition, the VanWinkle family will continue to serve their community the way they know how — delivering delicious beef and advocating on behalf of farmers and ranchers.